For us at Hardanger Bestikk, cutlery is much more than a tool you use to eat with. Cutlery is personal, something that should suit your preferences and your style in the home. It's like clothes, music, and art – a way of expressing yourself and showing your identity. That's why we have many different designs and styles, so that you can find your favorite and something that suits your home.
How to choose cutlery?
A nice cutlery set is something that can accompany you throughout your life. Expression is therefore important, but the feeling is perhaps even more important. Cutlery should sit well in the hand and feel natural during use and in contact with food.  With a little extra care, the cutlery will stay shiny and beautiful year after year.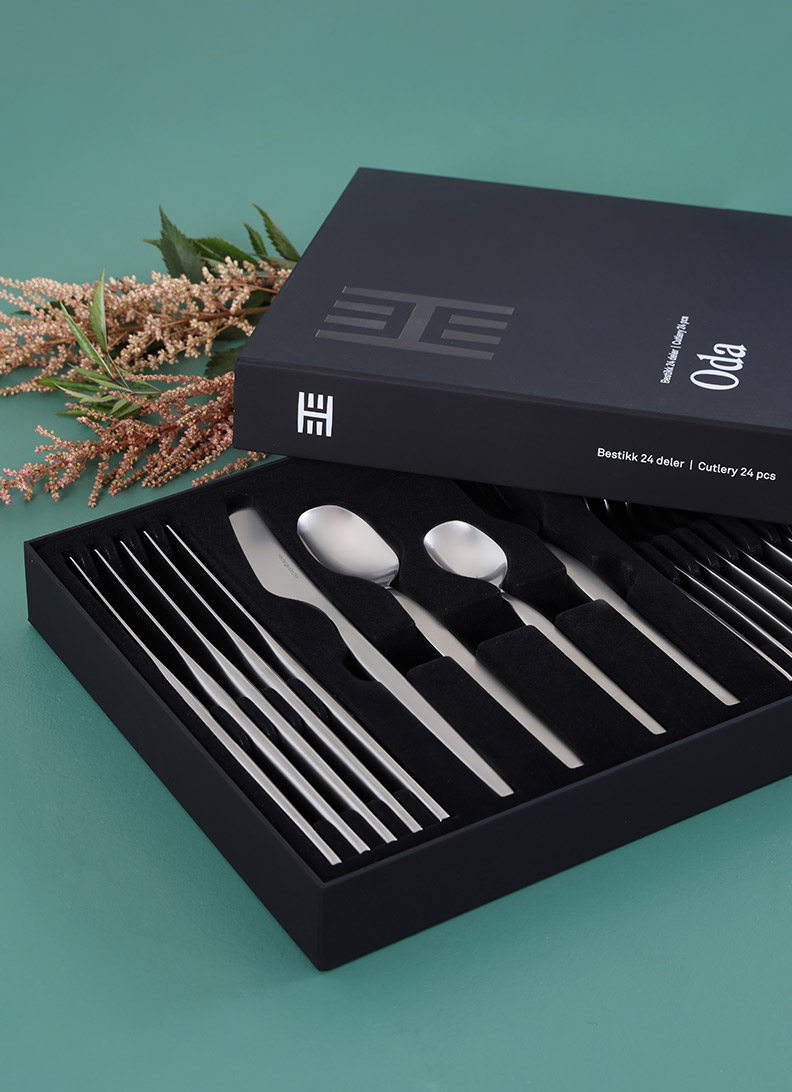 Tips when choosing cutlery
– If you don't have a nickel allergy, you should choose cutlery marked with 18/8 or 18/10 steel. However, if the cutlery does not have this marking, the quality is significantly lower.
– Check whether the cutlery is polished to a high gloss, and whether it is polished between the tines of the forks. Should that not be the case, bacteria can quickly become available again between the peaks. You can easily feel this by running your fingers between the tips.
– What occasions will you use the cutlery for? Do you want to keep it in your everyday drawer, or do you want to take it out for special occasions? Remember that one does not exclude the other, we really want to encourage you to bring out good quality cutlery for the occasions you have the most of, in fact everyday life. Let yourself be inspired to gather family, friends and cover pleasant meals as often as you can!
– How does the cutlery feel? Does it feel comfortable in your hand? Good cutlery enhances the dining experience if it is designed correctly.
How to take care of the cutlery?
– Rinse the cutlery well before putting it in the dishwasher.
– Wait until the cutlery has dried before putting it back in place.
– The closer the cutlery is stacked during washing or storage, the more scratches there will be over time.
– Do not soak the cutlery – then you risk rust attack.
– Make sure your dishwasher is set according to the supplier's recommendations for water hardness in your area.
– Use a gentle polishing agent if stains appear on the cutlery.
A nice cutlery set completes the table setting. The same cutlery can give very different expressions based on the surroundings. Things you can use to influence the expression are, for example, the occasion, glasses, crockery, tablecloths, napkins, flower arrangements and not least the table decoration. But the most important thing is that you really like your cutlery, and by that we mean that it must not be stored away in a drawer because you are afraid to use it. It should be a pleasure to take out, both for everyday occasions and for big festive occasions.
Choosing cutlery is therefore a choice that should be fun, but also well thought out. We want to create the best possible conditions for you to find the cutlery that is right for you and yours. Therefore, contact us on Instagram, Facebook or customer service if you have any questions about our products.