Organized and tidy kitchen
New month, fresh start
How about starting the month with tidy drawers and cabinets? Everything you need to make everyday life more efficient and carefree.
Everyday life can be hectic. We have multiple appointments, meals to be made and perhaps the routine has become a little out of control.
The kitchen is the heart of the home and the meeting point for many during the day. We spend a great deal of time here, whether it is cooking around the dinner table or in a social group. Customise your kitchen to suit you and your lifestyle, with smart organisation in kitchen cabinets and drawers. A neat cutlery drawer can make life at home a little easier and your kitchen more efficient.
Start with sorting. Pull out the drawers and open the cabinets doors. Place the contents onto the kitchen counter. Sort things by use and how often they are used to find a system that suits you. In all drawers and cabinets there is something that is superfluous. Give away or recycle what can be used and throw away what is broken.
When it comes to the drawers, we recommend a clear division into categories, for example, cutlery in one section, serving cutlery in another, kitchen utensils such as ladles, spatulas, and the like in another, and so on. Cutlery inserts in several varieties make it easier to sort within the categories. In this way you can now find what you need quickly and protect your cutlery.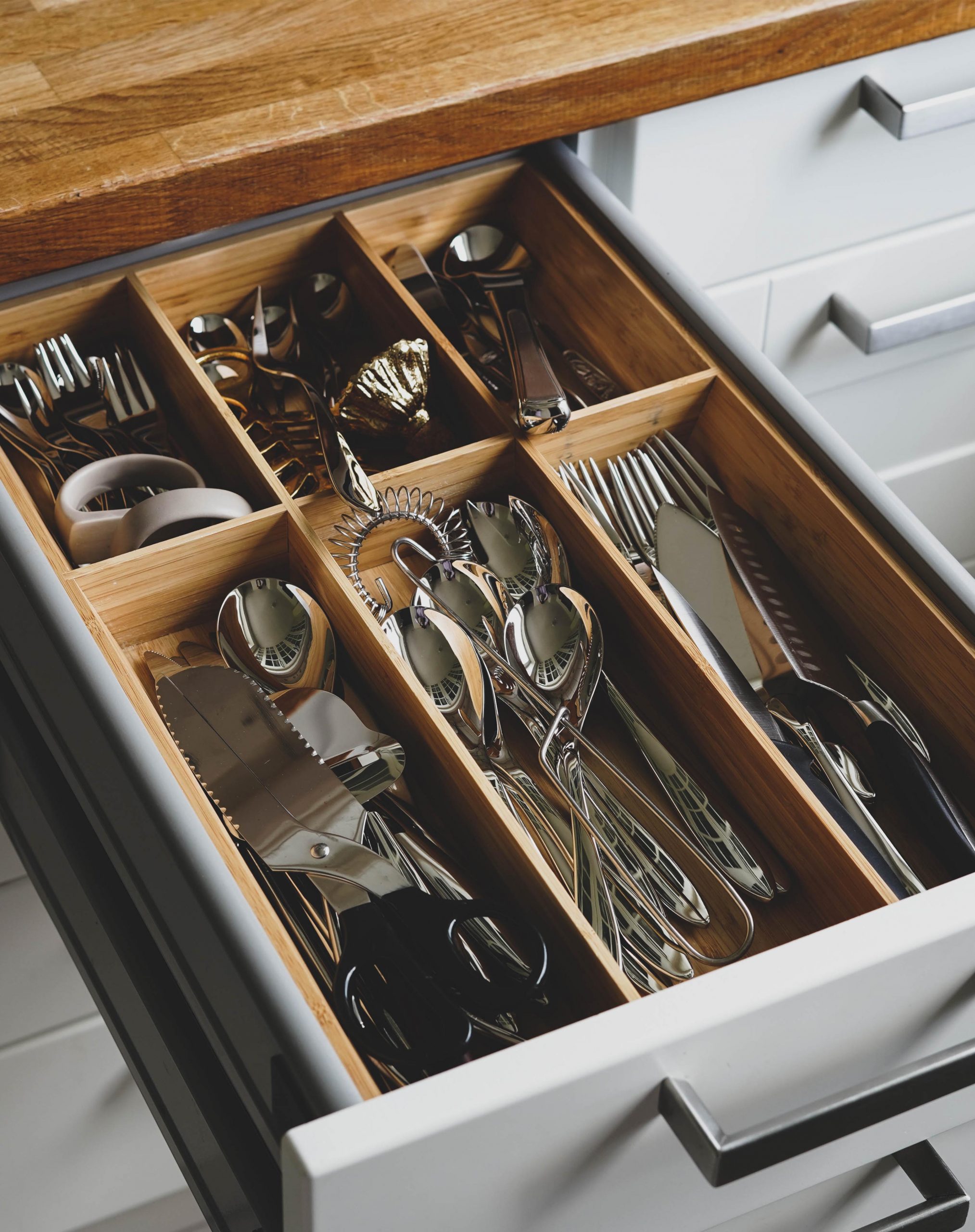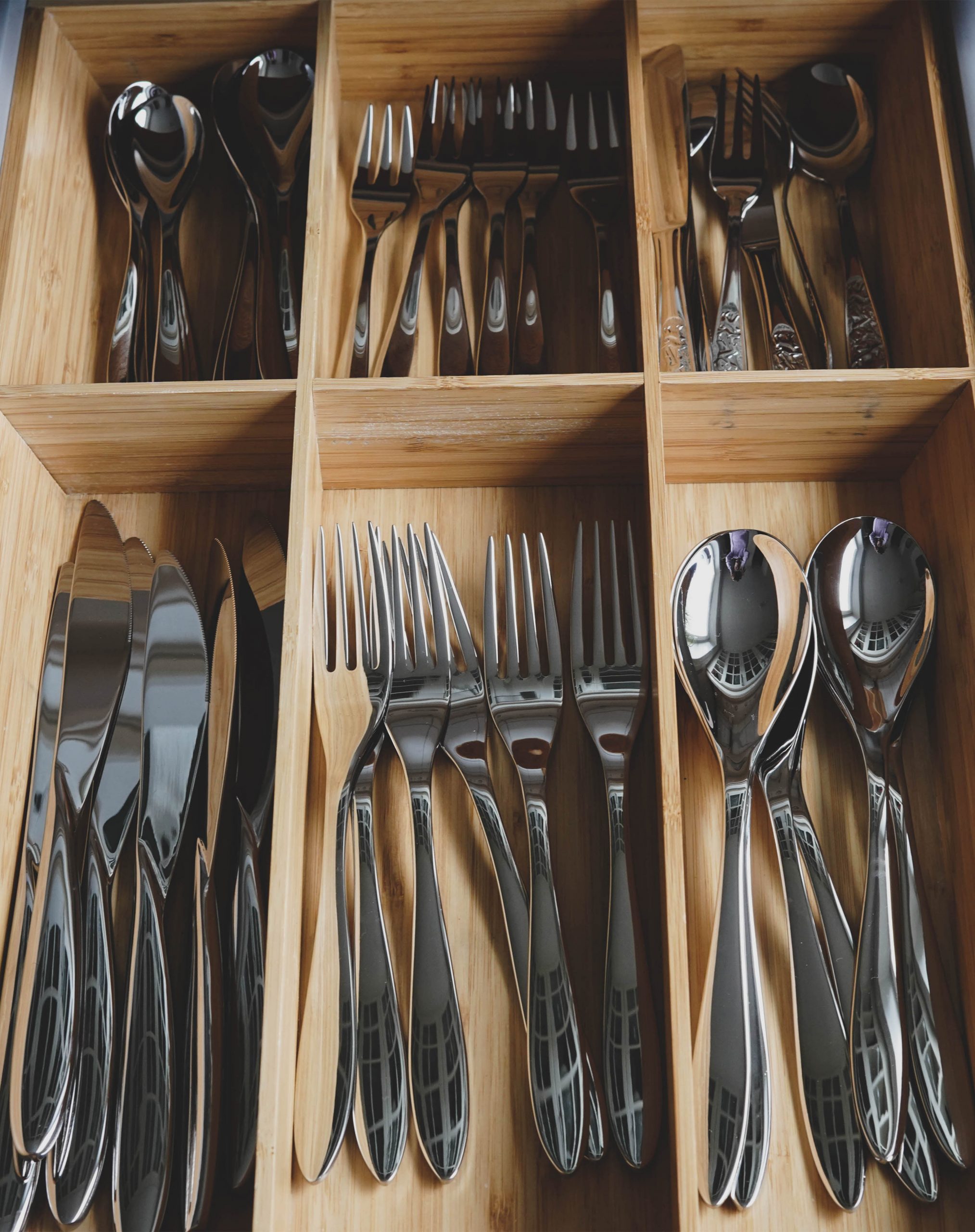 Result! An organised cutlery drawer is truly a delight to the eye – don't you agree? We have placed the cutlery where it feels natural to us.
Knives, forks, spoons, teaspoons, cake forks and children's cutlery. If you have a larger cutlery drawer, it is appropriate to place practical tools that are often used on the side, such as scissors, knives, etc.
Remember this is to make everyday life easier with things you use often. Why not create your own system or order?
Serving cutlery, how often have you thought "I need to create a system here, where is the salad cutlery amongst all these?". It is a thought we all recognise.
During hectic weekdays, it helps when everything has its place, including the serving cutlery. With a good overview, cooking and food preparation will go much faster.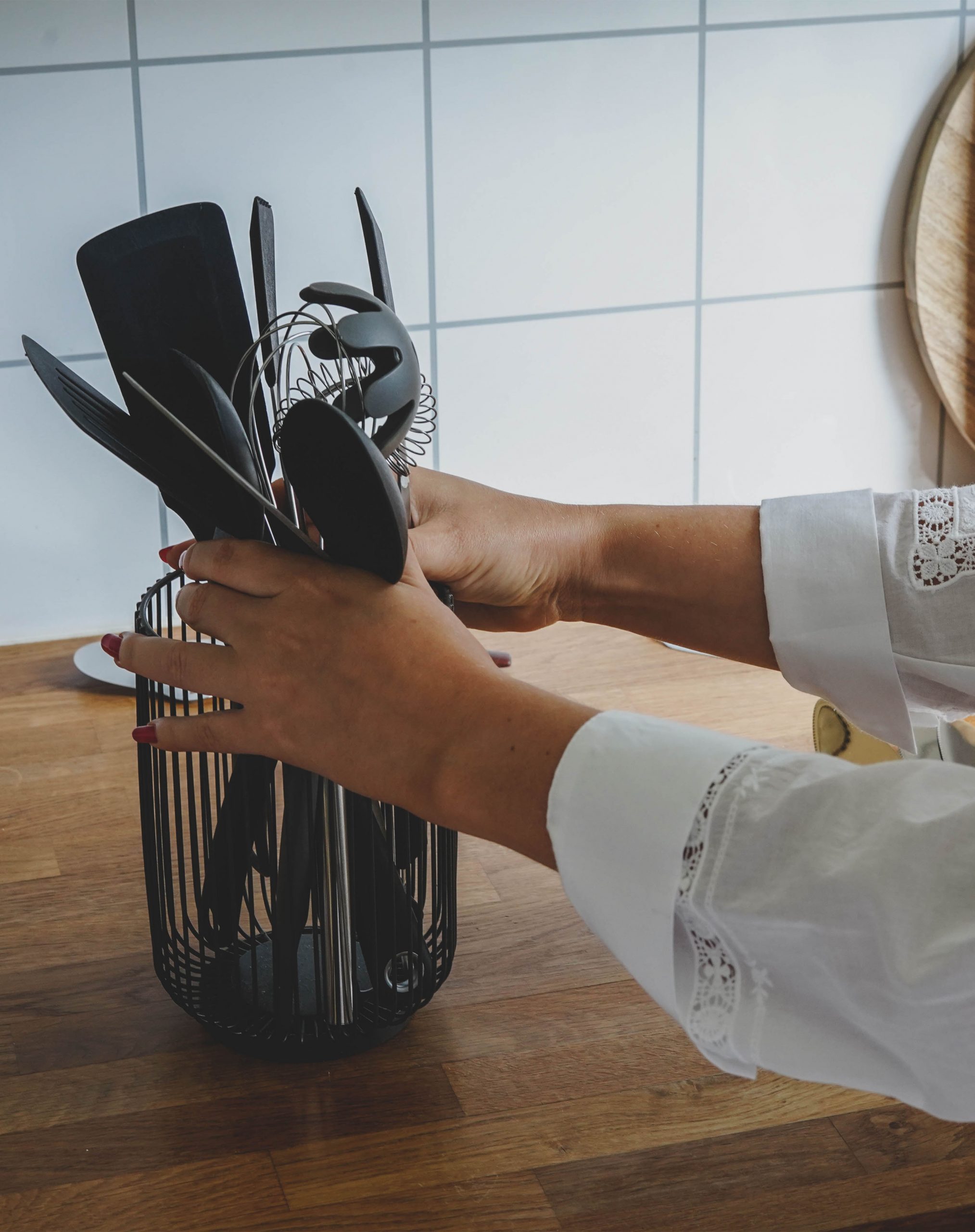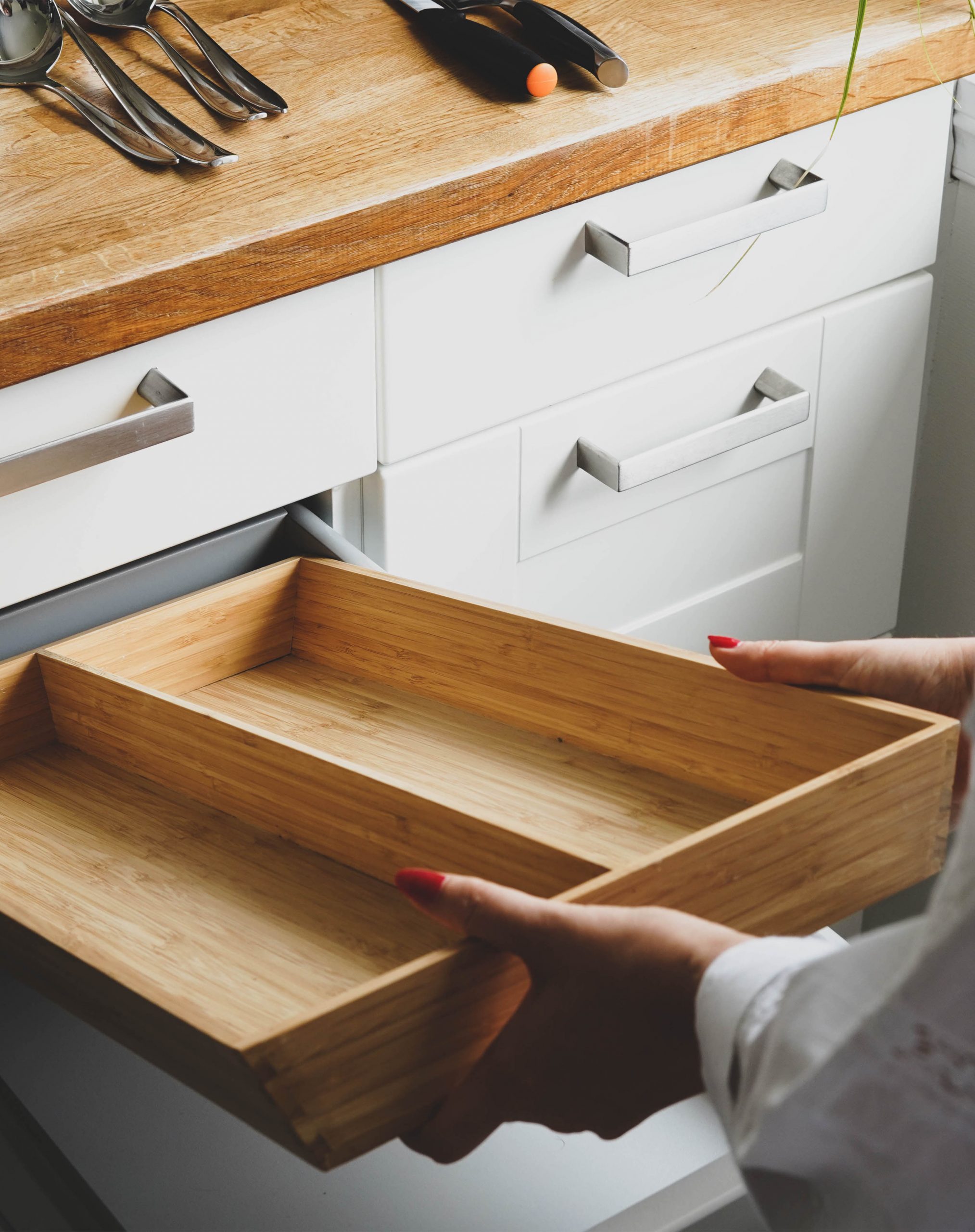 But what about the cutlery that does not fit in the cutlery drawer? We are a large number who have cutlery for different occasions.  Everyday cutlery, fine cutlery and other varieties of cutlery. Maybe this uses up a large space in the sideboards or cupboards?
Again, everything becomes so much easier when everything has its place – here as well, start by taking everything out of the sideboard or cupboard, sort all the pieces and get an overview of what you have. Perhaps you do not use all the cutlery and maybe want to give the cutlery to someone who loves or has a use for it. Another classic example is that you suddenly notice that you are missing two spoons after your previous dinner party.  Then it can be nice to replenish with spoons in time for the next occasion you require them.
The cutlery we do not have in presentation boxes is placed in cutlery bags. The cutlery bag is an ingenious, neat but still spacious small case, that holds 12 individual cutlery pieces. The fabric is made of a soft synthetic material that is reminiscent of velour. This protects the cutlery from scratches and rubbing against each other. The cutlery bag is easily tied together and takes up a third of the space that loose cutlery would otherwise do.
Here are our top tips for an organized and tidy kitchen:
Go through all kitchen cabinets and drawers. All the items that you do not need, use, or have a love for deserve new owners and you need the space!
Divide things into different categories and place them near to their eventual use.
Everything must have its fixed place.
Create different categories in different drawers. Cutlery In one drawer, other kitchen utensils in another etc.
It is fine to have a miscellaneous drawer if there is a system within the assortment.
Are you missing something?