Oda, a design with all the best
Oda is a dynamic design with exceptionally good grip properties, created for unforgettable dining experiences. Here, great emphasis has been placed on ergonomic features that make the cutlery comfortable to use. It is narrow, but at the same time has a shape that balances form and function in such a way that the cutlery rests firmly in the hand. The matt polished surface is designed to imitate satin, which gives the cutlery a soft expression with a playful, light-reflecting appearance that feels pleasant to the touch. In other words, a cutlery set with all the best tactile and functional properties, made to last and inspired by nature found in Hardanger.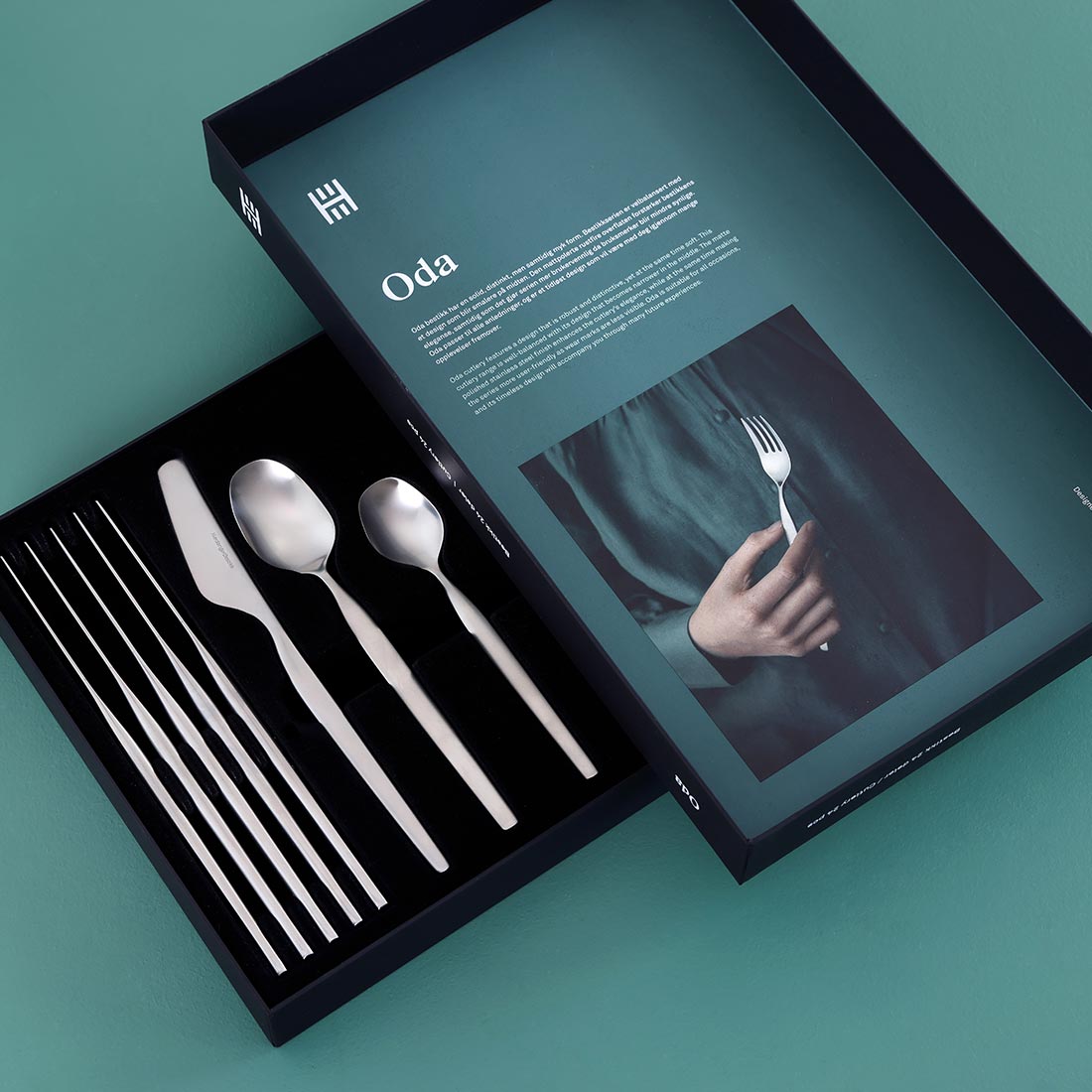 The expression
The Oda cutlery design is perhaps our most iconic design yet? With its long, elegant, and smooth tactile properties, this product appeals to all your senses at once. When you pick up the cutlery, you will immediately feel how well it fits in your hand. The weight, the smooth feel while holding the product, and even the taste, are tactile properties that are essential for cutlery to maintain world-class quality. And that is exactly what Oda does – combining the best in production methods and design.
Buy here
Unique dining experiences
A breathing space in everyday life, good times, preparing food together, a magical table setting, exquisite dining experiences and moments with family and friends. Every time we gather around a set table, new memories are created, and a new story is written. Oda cutlery sets have been created for those of you who value such good food moments.
It appeals to all the senses at once and has all the best qualities that cutlery should have to compliment the food in the best possible way. If you have Oda in your kitchen drawer, you want a cutlery set that not only enhances the visual expression of the table setting but is the most suitable utensil you can get to compliment the quality of the food you eat.
Developed, over time
Design is about creating good products where both form and function are taken care of in the best possible way. Our products are tools that will cover both practical and emotional needs, and we have extensive experience when it comes to the development of quality cutlery. Aesthetics is not just about the visuals – but the entire sensory experience of a product.
Oda is a unique design that has been developed over time, with inspiration from the nature that surrounds Hardanger. It combines slim lines with short, larger features, which makes the appearance of the cutlery interesting to the eye. This makes Oda yet another iconic design in our range.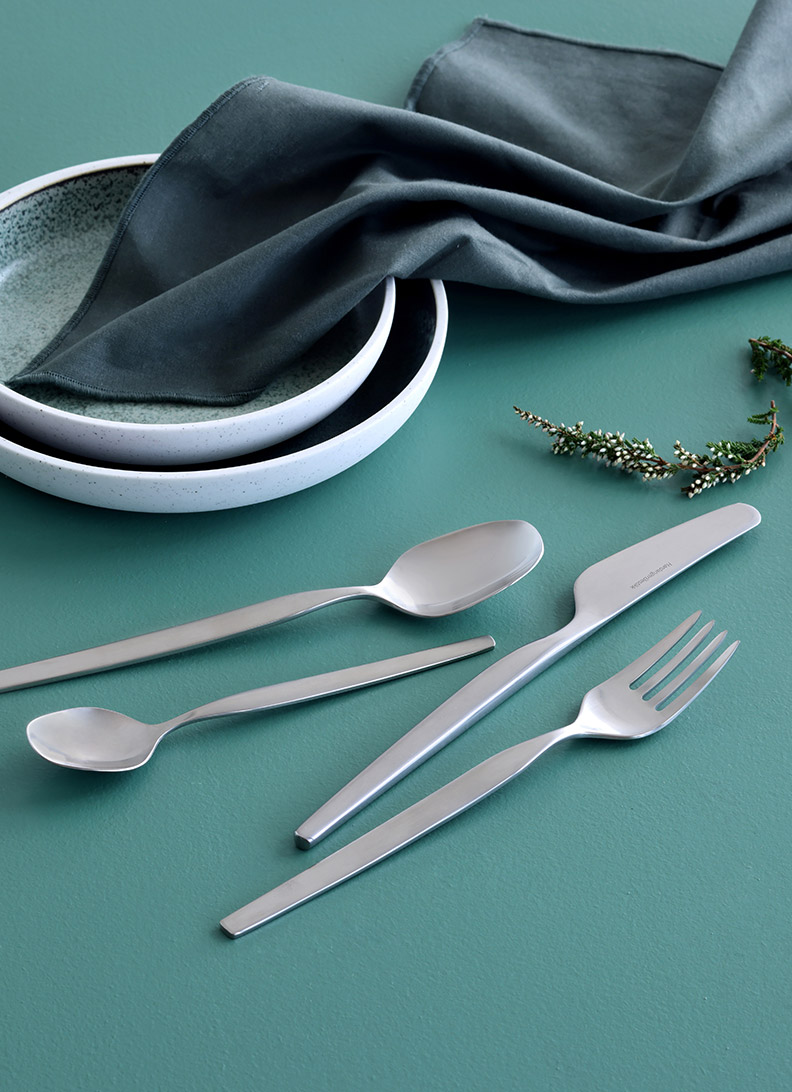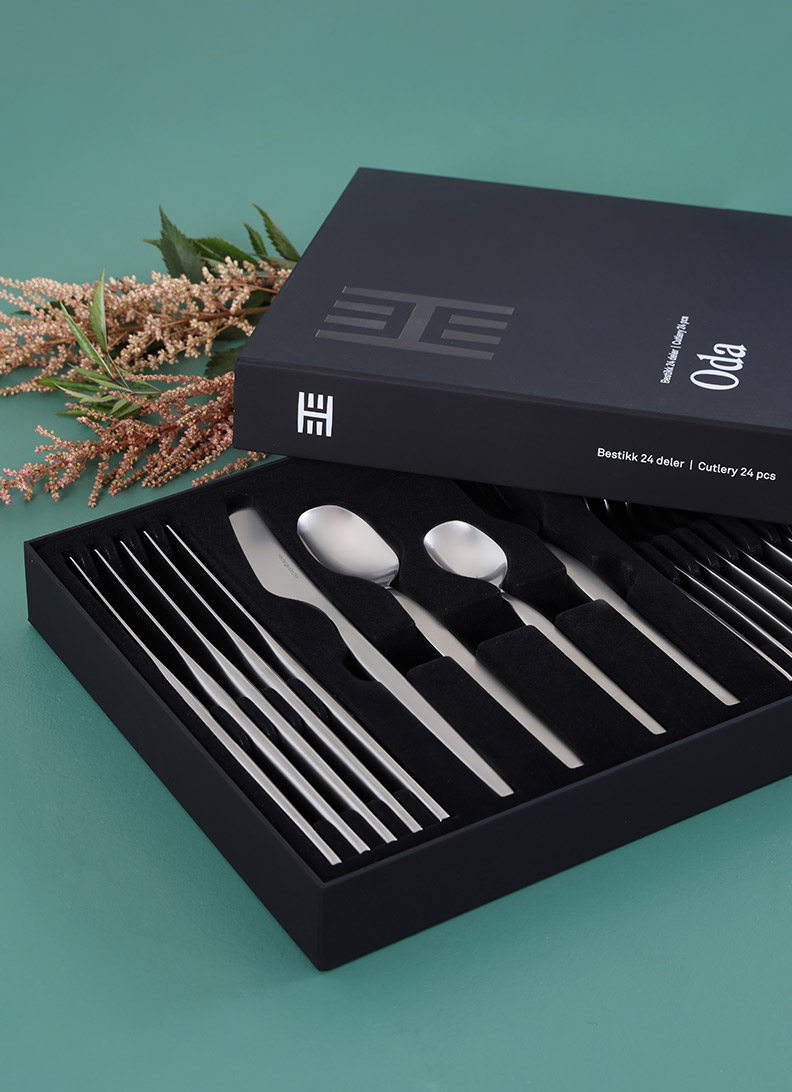 Timeless finish in brushed steel
Oda is one of our two new series that comes in brushed steel. Brushed steel, or in this case "satin finish", is a production method that precisely enhances the sensory experiences.
In addition, it also makes the utensils easy to maintain, as scratches and finger marks are kept away to an even greater extent than on normal steel cutlery. Brushed steel is a more whimsical way to produce a product, but in return gives a timeless and iconic expression that has all the best qualities.
Made to last
Oda is inspired by our origins and our history – shaped over time, surrounded by the spectacular Norwegian nature found in Kinsarvik. Like the nature in Hardanger, Oda is the result of production technique, design, experience, and knowledge, made to stand the test of time. In other words, Oda is timeless cutlery consisting of only the best properties, made to last through generations.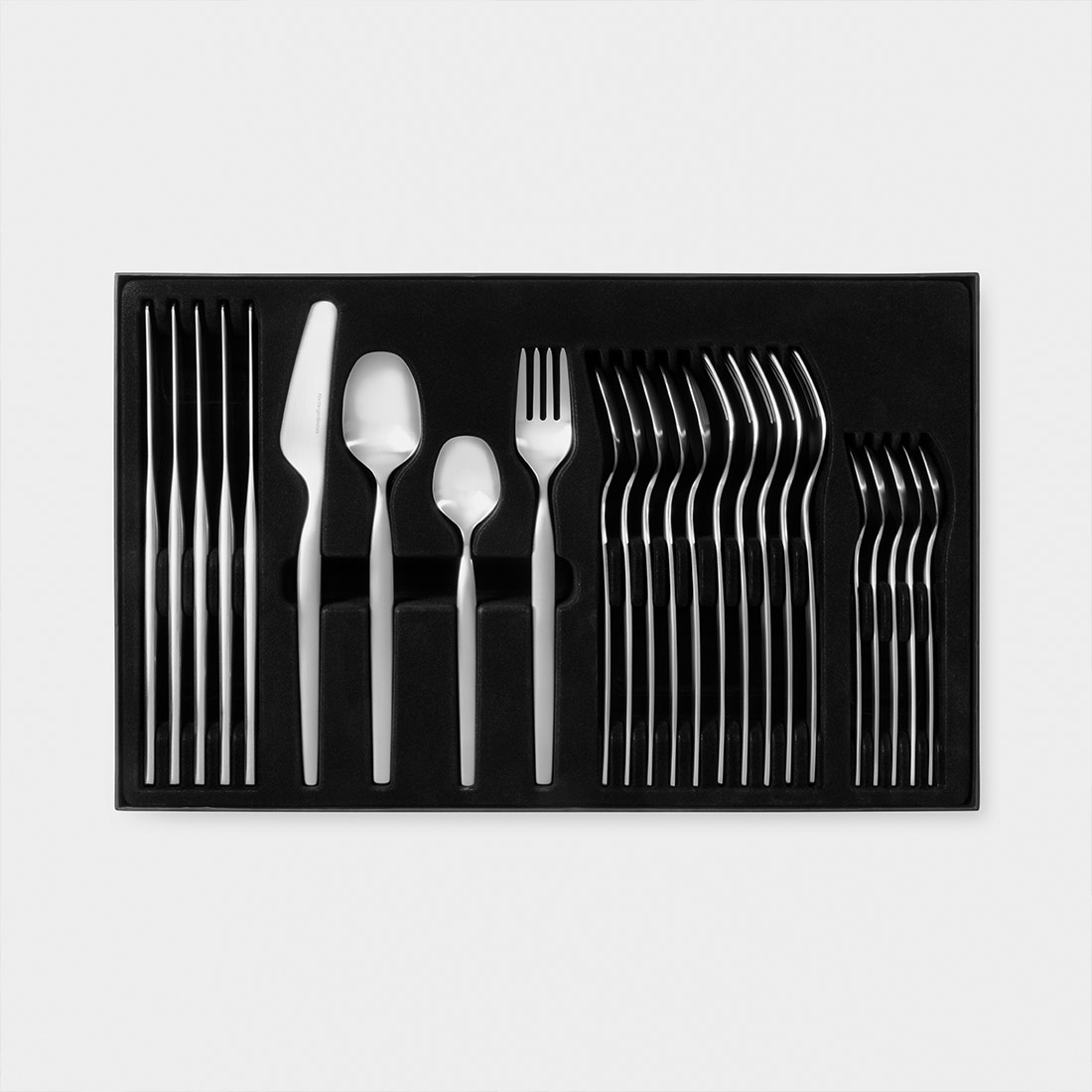 Oda Cutlery set
Ergonomic and well-balanced cutlery developed for optimal grip. The cutlery set comes in a pleasant storage box that contains cutlery for 6 people, respectively knives, forks, tablespoons and teaspoons. The cutlery has a matt satin finish.
Buy here
Maintenance of cutlery
All our designs contain 18% chrome and 10% nickel, which makes up stainless steel. This quality increases the cutlery's durability and is durable so you can use the cutlery for all occasions. The Oda series can withstand being washed in a dishwasher, but we still recommend rinsing the cutlery well beforehand to avoid stains. If you want more information, you can read more about cutlery maintenance here.