Decorate the New Year's table
The last party of the year
The last party table of the year is close to being finished. We at the Hardanger brand have found glitter and confetti and we are ready for 2022. Get your guests in the party mood with a nicely set table. This year's New Year's table we have decorated in both black and gold with green trimmings. We hope it gives you inspiration and tips for decorating this year's New Year's table.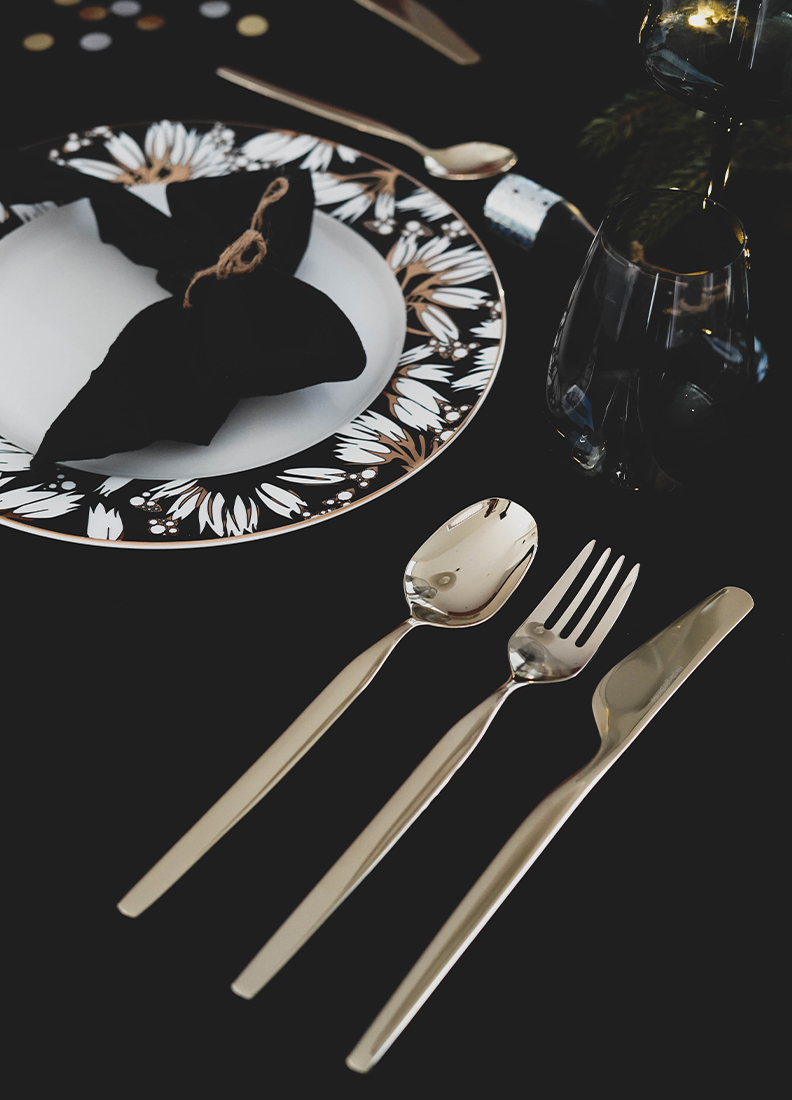 Decorate with black, gold and green
In December, many people only use red and green to decorate for Christmas. When it's the last day of the year, it can be nice to change colours. How about covering in black and gold? New Year's Eve is associated with fireworks, confetti, glitter, and champagne. Inspired by these elements, we want to use them in the table setting.
We chose to use a black tablecloth as a base to give a luxurious starting point. Furthermore, we covered with a tableware that had both black and gold details. This gives a sophisticated look to the table. We also chose to use black candlesticks and candles to complete the table setting with blended tones. To put the finishing touches on the table and create depth in the table, we also placed black Christmas ornaments together with a napkin.
New Year's Eve is an evening where you enjoy yourself around the table for a long period of time and share good conversations. A light chain can create a cosy atmosphere and give light to the room.
Together with the black and gold details on the table, we chose to use cutlery in the same colours. Elegant and Strength is designed by Eirin Kristiansen. The idea behind the cutlery design was that they would become an eye-catching accessory for the home. These are refined designs that light up both the simple and most luxurious dinner parties. They exude confidence, rebellious elegance, and classic qualities.
Hostess
Maybe you have been invited to celebrate the last day of the year with someone else? A gift to the hostess is a little attention you bring to the hosts who have either invited to dinner or party! Traditionally, you bring an extra bottle of wine or a homemade cake that guests can enjoy with dessert. But a hostess gift can be so much more than this and we have selected some favourites that you can give away with pride – and within budget.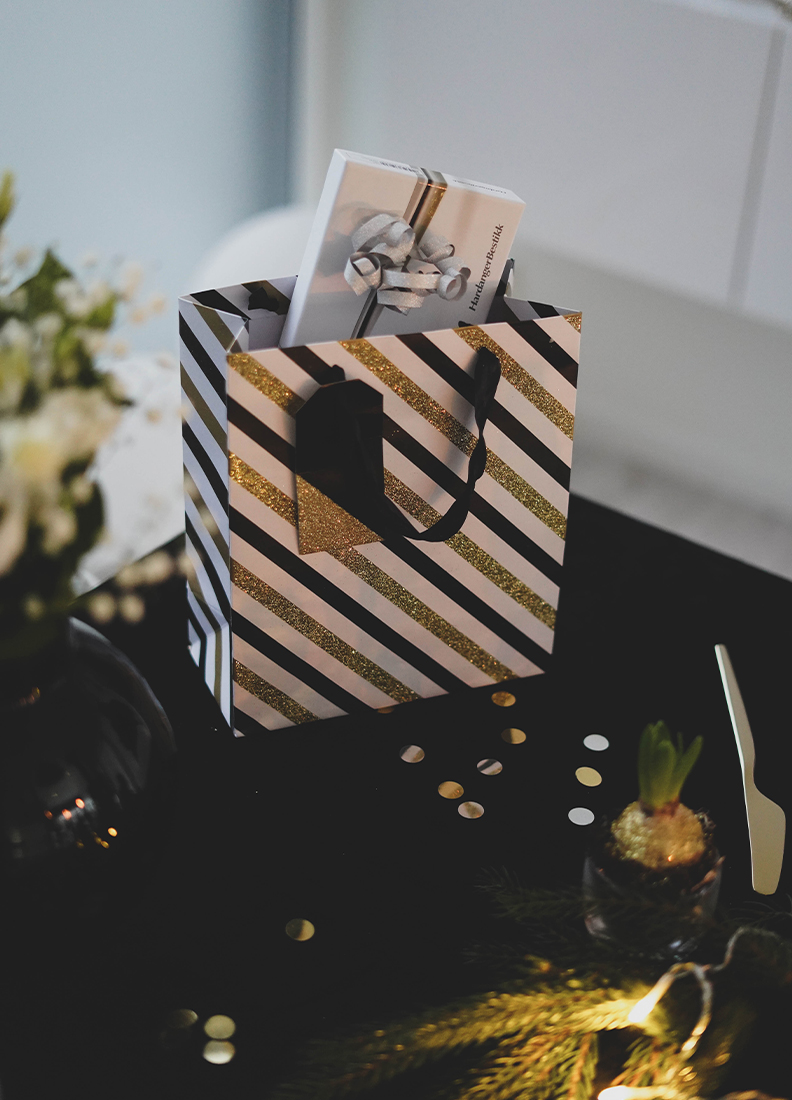 The waiting times
After a good meal has been eaten, we all wait for the clock to strike midnight so that we can see the fireworks and pop the champagne, while we wish those around us a happy New Year! How about spending the waiting time to enjoy a good dessert? Maybe you have a traditional dessert?
We wanted the dessert to taste of Christmas and therefore created a Christmas twist on a traditional panna cotta. We added cinnamon and topped with orange sauce so that there would be no doubt that this dessert belongs to the Christmas holiday. The dessert can be made the day before and only needs a quick styling before serving. This allows both hosts and guests to enjoy themselves more in each other's company.
Tips for the New Year's table
New Year's Eve is a perfect opportunity to thank friends and family for the year that has passed and look forward to a new year. Many people therefore use this opportunity to gather their loved ones for a nice New Year's party. We therefore think it's fun to make the effort with the New Year's table decoration to set the good mood.
Our best tips for the New Year's table:
Feel free to set the table the day before. There is often a lot to be fixed and cared for until the last day of the year.
Use light elements and decorations so that it is not difficult to move anything when the food is on the table.
Use Christmas decorations for the table. Maybe the Christmas decorations will be gone soon?
It is dark outside, set the mood with lots of light on the table. Both candles and light chains.
Use the nature – the green is very much promoted by the black on the table.
We at Hardanger Bestikk take this opportunity to thank everyone for the year that has been. We wish you a Happy New Year!
Are you going to set your New Year's table with cutlery from us? We would love to see! If you use Hardanger Bestikk to cover the New Year's table, post on Instagram and tag us with #Hardangerbestikk. We look forward to seeing all posts. Good luck and happy table setting!